Tirthan Valley is a beautiful and serene destination located in the Kullu district of Himachal Pradesh. If you are a first-time visitor to Tirthan Valley and have only three days to explore this place, then this comprehensive guide is perfect for you. In this guide, we will take you through the best things to do and see in Tirthan Valley in three days.
Day 1: Arrival and Exploration
On the first day of your trip, you can arrive at Tirthan Valley by either taking a bus or driving from Delhi. Check-in to your accommodation and rest for a while. Later, in the day, take a walk around the village and explore the local markets. You can also visit the Chhoie Waterfall, which is about 1.5 km from trek from the village Gahidhar. Spend some time here and enjoy the natural beauty of the waterfall.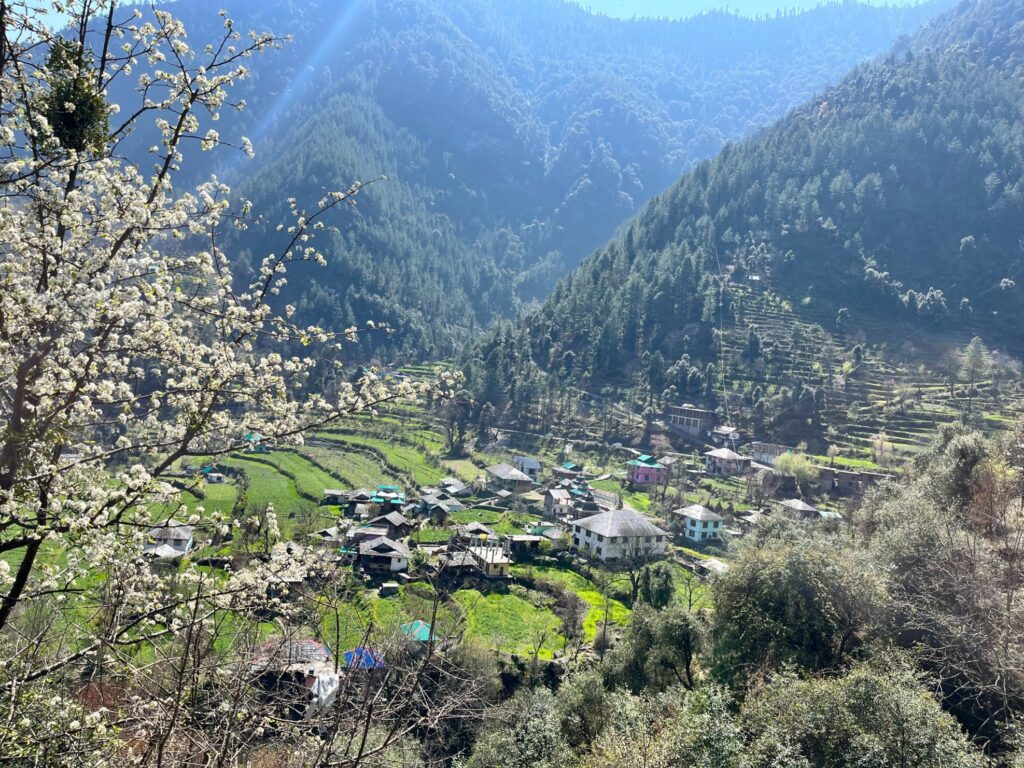 Day 2: Explore the Great Himalayan National Park
The Great Himalayan National Park is a UNESCO World Heritage Site and a must-visit destination for nature lovers. The park is home to a diverse range of flora and fauna, including snow leopards, musk deer, and Himalayan black bears. Take a guided trek into the park and explore the stunning landscapes and wildlife. You can hike upto the main gate of the Great Himalayan National Park from Gushaini, which is around 8 kilometres away. Going beyond the gate requires a permit which you can get from the forest range office in Village Sairopa.
Day 3: Chaini Kothi and Jalori Pass
On the third day of your trip, visit the Chaini Kothi, a unique architectural marvel located in a traditional village in Tirthan Valley. The Kothi is made entirely of wood and stone and is adorned with intricate carvings and designs. You can also visit the local temple dedicated to Goddess Kali, which is built-in traditional Himachali style. After visiting the Kothi, head to Jalori Pass, which is a beautiful mountain pass located about 15 km from Tirthan Valley. You can take a jeep safari or a trek to the pass and enjoy the breathtaking views of the surrounding mountains and valleys.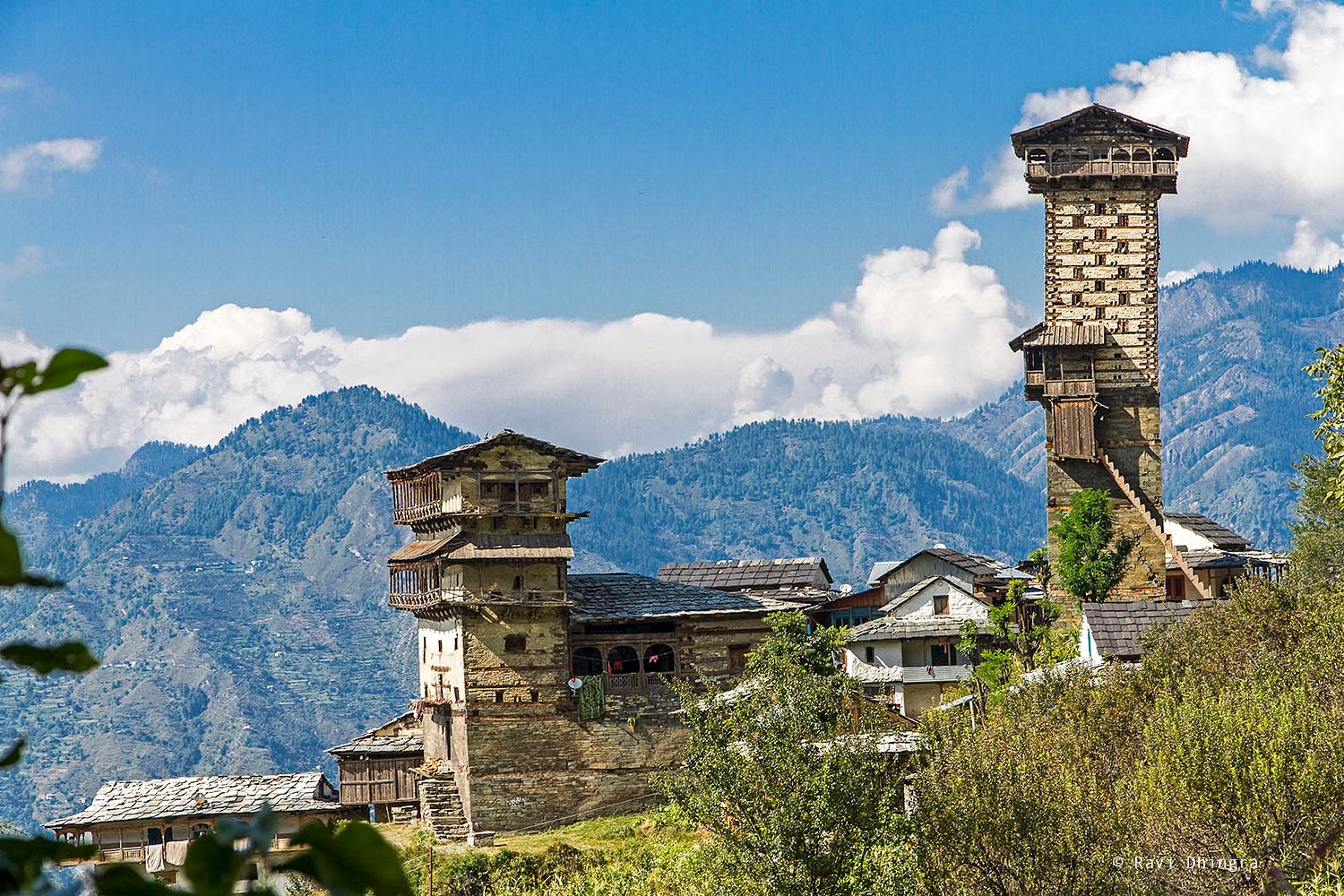 Other Fun Activities in Tirthan
If you have some extra time, you can also indulge in some other activities in Tirthan Valley, such as:
Trout Fishing:
Tirthan Valley is famous for its trout fishing, and it is an activity that you can enjoy with your family or friends. You can rent fishing gear and spend the day fishing in the river.
Riverside Picnic: 
Enjoy a picnic on the banks of the river and savor some local delicacies.
Visit Serloskar Lake: 
Serloskar Lake is a serene and beautiful lake located about 5 km from the Tirthan Valley. You can take a guided trek to the lake and spend some time relaxing and enjoying the beauty of the surrounding mountains and forests.
Best time to visit Tirthan Valley?
Tirthan Valley is an year round destination as it flaunts different shades of nature every month. Though the best time to visit Tirthan Valley is from March to June and from September to November. During these months, the weather is pleasant, and the valley is at its most beautiful with lush greenery, blooming flowers, and clear blue skies. The temperature during the daytime ranges from 15°C to 25°C, and the evenings can get chilly, with temperatures dropping to around 10°C. The winter season from December to February is also a good time to visit for those who enjoy snowfall. However, the temperatures during the winter months can drop to sub-zero levels, making it a challenging time for some visitors.
Accommodation in Tirthan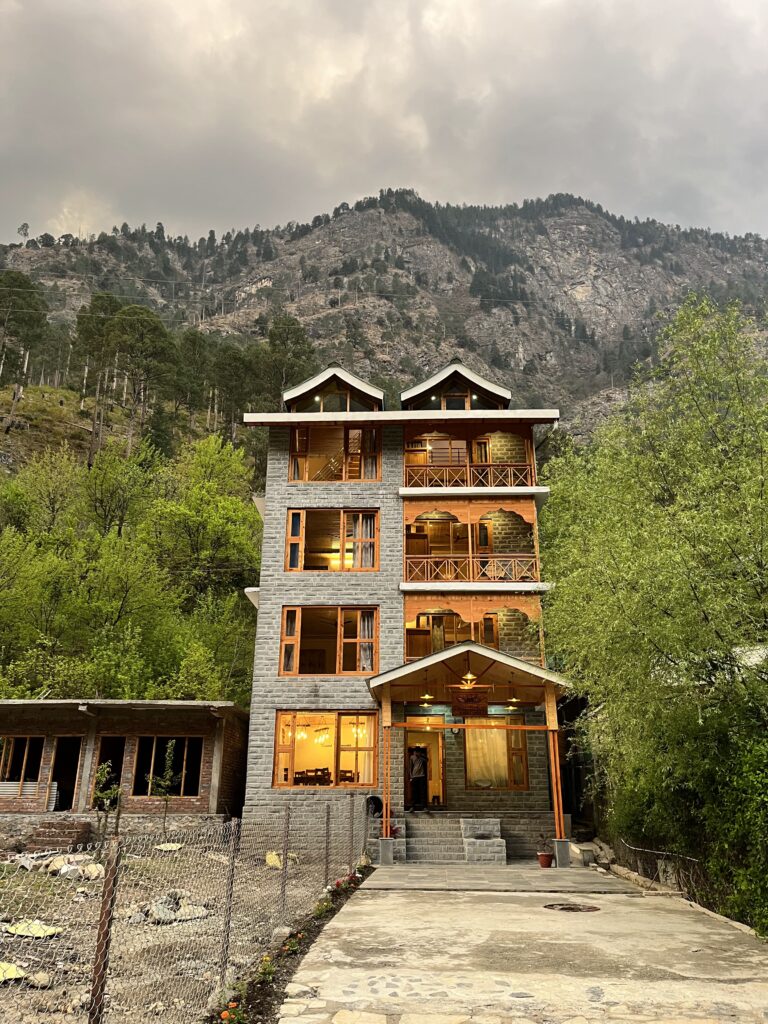 There are several options for accommodation in Tirthan Valley, ranging from budget-friendly homestays to luxury resorts. To complement your journey to Tirthan Valley, you need a perfect place to stay. Right? Divine Tirthan is your place.
Overlooking the tranquil Tirthan River and majestic mountain peaks of Tirthan Valley, DivineTirthan is your home away from home. With the enchanting views all around, travelers may choose among different categories of rooms. The rooms are picturesque, aesthetic, rustic and give you the warm feeling in the cold weather. You may choose to sip chai while listening to old hindi songs, read a book, meditate or pamper yourself in your own way. Our in-house restaurant serves you with delicious home cooked food. This part of the property observes the exchange of wonderful stories among travelers which enhances your experience and you take wonderful and joyful memories back home.
The best part about Divine Tirthan is that the people you meet become great companions on your journey. The conversations that happen at the property have an element of depth and inspiration which is necessary to develop a bond with others at a human level.
Do make sure to book your accommodation in advance as the place can get quite crowded, especially during peak season.
In conclusion, Tirthan Valley is a beautiful and serene destination that can be explored in just three days. (Although we recommend to spend atleast 4-5 days in the valley, but for first time visitors, 3 days should be the minimum). From natural beauty to cultural heritage, Tirthan Valley has something for everyone. This comprehensive guide will help you plan your trip and make the most of your time in this beautiful place. So, pack your bags, put on your trekking shoes, and get ready to experience the beauty of Tirthan Valley.